ABOUT THE BRAND
With the first collection debut in 2021, daana saakena pays homage to traditional Italian craftsmanship in modern silhouettes.
Featuring clean lines, unique shapes and solid structure, each daana saakena handbag is an ode to the timeless artistry and unique details found throughout heritage pieces of the past.
The foundation of daana saakena is one that is timeless, deliberate and architectural featuring exceptional Italian leather and details such as special inside pockets, hidden strap hooks and signature hardware. Made in Italy, each daana saakena bag is thoughtfully constructed by hand, assembled with the utmost care and detail. 
Luxury handbags were built to stand the test of time, as is each daana saakena handbag.
OUR BELIEF
CRAFTSMANSHIP
Using only the highest-quality materials, daana saakena works with Italian factories from world-renowned artisans implementing techniques handed down from generation to generation, offering true heritage craftsmanship in modern form. Italian leather is coveted for its soft and pliable nature as well as its durability and longevity. While Italian gold boasts some of the best karat quality, making daana saakena's real gold-coated hardware more than just functional, but a true statement piece.
HERITAGE
When setting out to create the daana saakena brand, founder Daana Saakena Diaz Madrid was drawn to her mother's collection of vintage handbags. She wanted to pay homage to the artistry and unique details found in the structure, hardware and handles of these heritage pieces. Luxury handbags become heritage pieces due to their timeless style, expert craftsmanship and quality materials. Well-constructed handbags are built to stand the test of time, as is each daana saakena handbag.
EXCLUSIVITY
Every daana saakena piece is hand-crafted, thoughtfully constructed with care and detail. This attention to detail translates through the solid structure, clean lines, and architectural one-of-a-kind elements. Due to the specialty nature in which each daana saakena handbag is made, only a limited run of each style and colorway is produced per season making them true collector pieces. Shop the one-of-a-kind pieces on daanasaakena.com.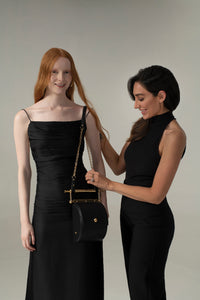 THE DESIGNER

Founded by designer and CEO Daana Saakena Diaz Madrid, her namesake brand is a culmination of her decades of experience in the fashion industry.
As a first-generation Lebanese American, Diaz Madrid wanted to create a brand that was an ode to her upbringing. Naturally drawn to fashion, art and interior design, Diaz Madrid poured her interests into her career. 
After graduating from FIDM, Diaz Madrid ingrained herself in the fashion industry, learning all facets of the business from the ground up. Having gained valuable experience across a number of notable fashion houses, Diaz Madrid took her expertise to The Elder Statesman, working closely with founder Greg Chait to build the lifestyle brand during its formative years. Following her stint at The Elder Statesman, Diaz Madrid felt it was time to venture out on her own. While consulting for a number of startup fashion brands, Diaz Madrid started to conceptualize her soon-to-be eponymous brand, taking the knowledge and connections she built within the luxury space and bringing it with her to create daana saakena.
As an emerging designer, Daana is excited to breathe new life into the handbag category and introduce you to daana saakena.